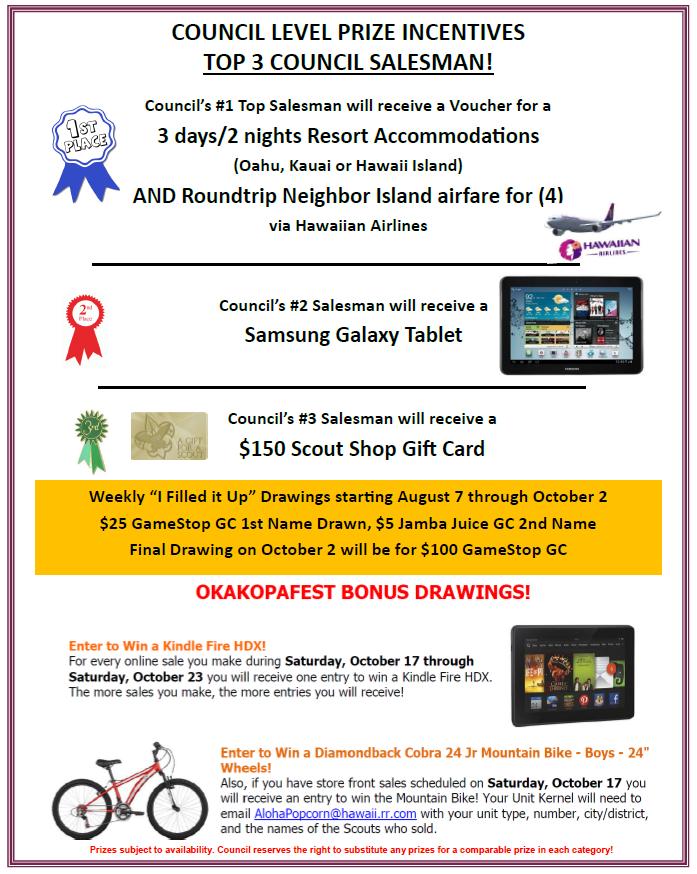 *Minim

um sales to qualify for top prizes are shown in parenthesis.
Click
here
to place your Unit's Prize Order. Remember to report any scholarship information along with the names of any Scouts who made the $650 and $1500 levels.
For Scouts selling online, you can still earn prizes through November 30. Deadline to order these prizes is December 5th.
Sell $650 and receive a special Adventure Club patch and Firetek Rocket.
Sell $1,500, and in addition to the $650 Adventure Club prize, receive a $50 Walmart or Amazon Gift Card.
$1500 Salesmen and a guest are invited to a Council
hosted pizza and ice cream party!
$2,500 Scholarship Program:
Scouts who sell at least $2,500 (online, face-to-face and ShowNSell combined) in any calendar year receive 6% of their total sales each year will be invested in their own college scholarship account.
Scouts only have to hit the $2,500 minimum one time.
Once enrolled, they should report their total sales each year on the form.