University of Scouting
---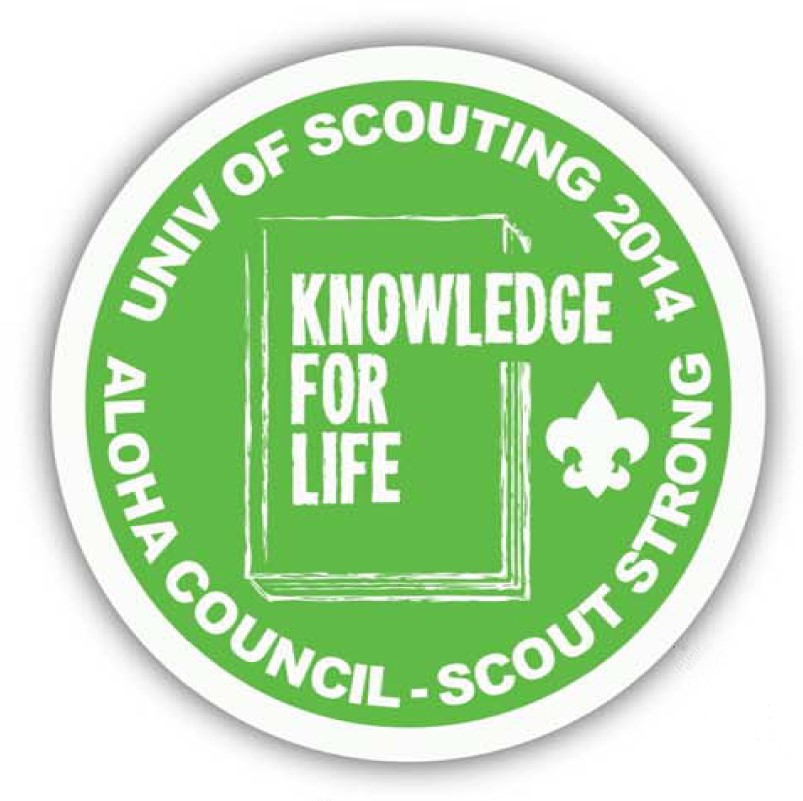 ALOHA COUNCIL PROUDLY PRESENTS
2014 UNIVERSITY OF SCOUTING
"Scout Strong – Knowledge for Life"
Saturday, November 8, 2014
LDS Honolulu West Stake Center
1723 Beckley Street, Honolulu, HI 96819
What is The University of Scouting? The University of Scouting is an action packed, fun?filled day of supplemental Scout Leader training. The University of Scouting is offered once a year to provide knowledge, ideas and resources to assist adult leaders, volunteers and Boy Scouts in their Scouting positions.
There will be six, one hour sessions. You can choose from up to 17 different classes for each session. Classes are led by experienced volunteers and professionals who will help you deliver a fun and exciting program to Scouts.
Why attend The University of Scouting? The University of Scouting is the perfect opportunity to improve your leadership skills, increase your Scouting knowledge and learn more about important Scouting topics. The result is that you will be better prepared to deliver a high quality experience to your Scouts. Every Scout deserves a well trained leader!
Another great benefit is meeting and learning from other Scout leaders who share your interest, challenges and passion for Scouting. Use your time between classes and at lunch for Scouter networking. Meet up with old friends and make new ones!
Who should attend The University of Scouting? All registered adult leaders, potential adult leaders, committee members, volunteers and Scout parents. This includes Cub Scout, Boy Scout, and Venturing leaders, as well as unit, district and council volunteers.
Boy Scouts and Venturers ages 11 and up are welcome to attend. Scout leaders and volunteers looking for the very best training and information sessions will find a variety of courses relevant to their current or future position in Scouting. There are no courses in the schedule appropriate for Cub Scouts.
How much does it cost? Early bird registration until October 25 is $20.00. After October 25 the registration fee is $25.00. The registration fee for Boy Scouts and Venturers is $10.00. Classes must be scheduled and paid for at time of registration.
What's included in my registration fee? In addition to receiving a full day of fun, interesting class sessions, handouts, class materials and fellowship with hundreds of fellow Scouters, everyone will receive a hot lunch and a special commemorative 2014 University of Scouting patch.
What should I wear and bring? Wear your FULL Uniform. Bring a pen and paper to take notes. Most importantly bring your desire to learn!
"Scout Strong – Knowledge for Life"
2014 University of Scouting Schedule
7:00 am Registration Check-In Opens
8:00 Gather for Open Ceremony
8:15 Flag Ceremony
8:30 Program Starts
9:00 to 9:55 Session 1
10:00 to 10:55 Session 2
11:00 to 11:55 Session 3
12:00 pm Catered Lunch
1:00 to 1:55 Session 4
2:00 to 2:55 Session 5
3:00 to 3:55 Session 6
4:00 pm Closing Ceremony
RESOURCES AND LINKS