Eagle Scout Recognition Banquet - Big Island
The Aloha Council would like to congratulate you on achieving the rank of Eagle Scout! You are a member of the elite Eagle Scout Class of 2015 & 2016!
You are cordially invited to join us at the upcoming Soar! Eagle `Ohana Luncheon along with your parent/guardian, business, political and military leaders in Hawaii to honor and celebrate the outstanding accomplishment that you and other fellow Eagle Scouts have earned. The event will take place on Saturday, July 16, 2016 at the Imiloa Astronomy Center. Your lunch is being paid for by one of the sponsors so I strongly encourage you to attend.
Below is the Registration Form to be completed and returned to the Aloha Council by June 15, 2016. Your lunch reminder will be emailed to you approximately one week before the event and after your registration is received.
For the Luncheon, please wear your Scout uniform and arrive by 11:00 a.m. for registration and to be included in a class photo. The Luncheon will commence promptly at 11:30 a.m.
I hope to see you and your family at the event! If you have any questions, please contact Mavis Lum Ho at (808) 959-0079 or email Mavis.LumHo@scouting.org.
Sincerely,
Newton Chu
Eagle Scout, Troop 325 – Arleta, CA
Parent Registration Form - Big Island Eagle Banquet
Eagle Scout Recognition Banquet - Oahu
64th Annual Eagle Scout Recognition Banquet
Details TBD
Class photo from the 2016 Eagle Scout Recognition Banquet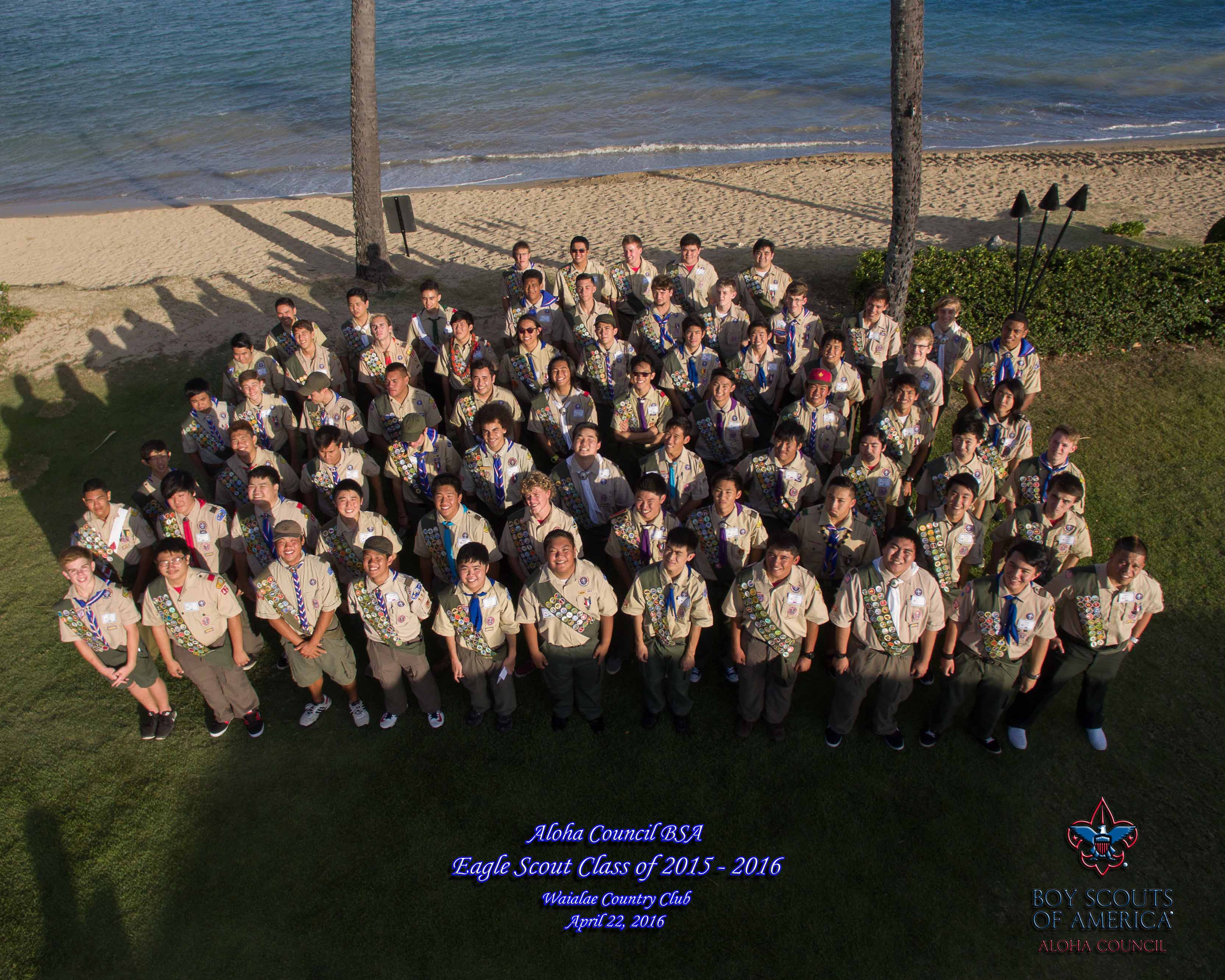 2015 Eagle Scout Recognition Banquet photos
For more information please contact Dominique at Dominique.DeWitt@scouting.org or call 808-380-5447.
Fun "Historic" Fact: The first Eagle Scout Recognition Banquet was held on Thursday, October 29, 1953 at the Royal Hawaiian Hotel. The Council President was Stephen A. Derby, the Scout Executive was Hazen Shower and the banquet chairman was Lt. General Henry S. Aurand.