Session 1 is now full! Session 2 still has room! Sign up here!
Have questions? Guidebook is here!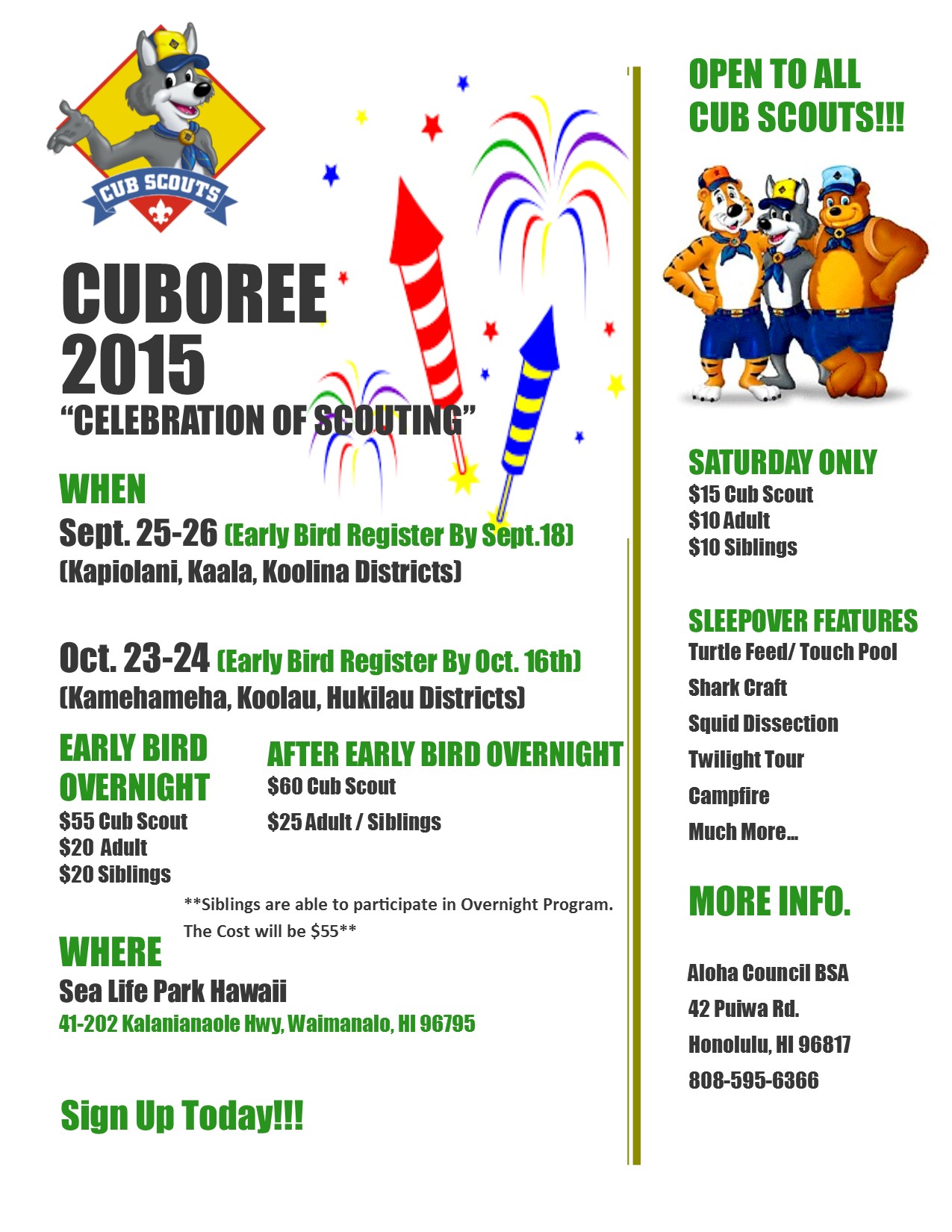 Cuboree 2015
"Celebration of Scouting"
WHY
To provide Cub Scouts an opportunity to experience the fun and adventure of going camping. Cub Scouts will have the opportunity to work on their adventures and to have FUN!
WHAT TO PACK
Overnighters:
Participants Should Bring:
Light foam camping pad
Sleeping bag
Pillow
Flashlight
Necessary toiletries
Washcloth and/or hand towel
Light jacket/sweatshirt
Sleepwear
One change of clothes
Rain Gear (Depending on the weather)
Comfortable shoes
Sunscreen
Water bottle
Camera (optional)
**There are a few areas that will allow tents. There are also areas where tents will not be needed. There is space for about 120 people to sleep in covered areas. These will be given out on a first come first serve basis.**
Saturday Only Participants:
Registration starts at 9:00am. Field Uniform, Activity Uniform or Cub Scout colored attire (blue and gold). Lunch is on Your Own.
PROGRAM FEES
Cost includes:
Overnighters: Friday Program - Turtle Feed/Touch Pond, Shark Craft, Squid Dissection, Twilight Tour, Campfire with Smores
Note: YOU are responsible for bringing your own dinner Friday night. You may bring it to camp ready to eat or eat it before you arrive. You will not be able to cook your own food or have a place to prep personal meals at this event.
Saturday Only (Also with Overnighters): Dolphin Trainer Talk, Hawaii Ocean Theater Show, Exploring Park, Lunch is on Your Own.
ARRIVAL
Registration opens at 5:00pm on Friday. Upon arrival please park your vehicle and unload then proceed directly to the Registration table at the front entereance. Be prepared to walk everything from your vehicles into Sea Life Park.
Saturday Only Participants - Please report to Registration table at the front entrance.
Cub Scouts sleeping overnight must be accompanied by a minimum of one responsible adult family member who is 18 years of age or older.
**FRIDAY NIGHT DINNER ON YOUR OWN** **FRIDAY NIGHT STARTS AT 5 PM**
**SATURDAY STARTS AT 9AM** End at 12pm - Lunch is on Your Own
All Cub Scouts must present a copy of their Medical form (Parts A & B) at check-in. Click on the link to download a copy.