Details: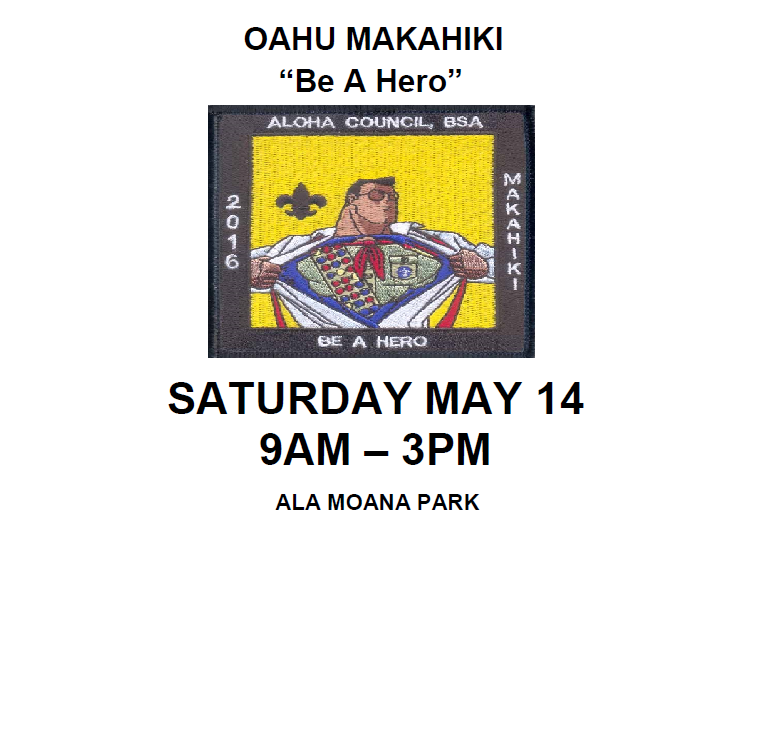 WHY DO WE HAVE A MAKAHIKI?
Objectives:
Re-engage and reintroduce Scouting into the community

Help with the promotion and tie-in of our Makahiki Card Fundraiser

Share our rich Scouting traditions with the community

Use council events as a vehicle to increase awareness of Scouting's positive impact on youth
Mission
Build community awareness about and appropriately celebrate the 105th anniversary of the Makahiki here in Hawaii.
Provide an opportunity for the entire Aloha Council Scouting community on Oahu, to join together in sharing skills, making friends, and enjoy the adventures of Scouting.

Involve youth members of the council in an adventurous learning experience that provides advancement opportunities for them.

Help youth members, leaders, and chartered organizations to witness and appreciate our council-wide membership.

Develop public awareness and appreciation for the Scouting program.

Support quality unit programs by providing a council/district coordinated activity.

Provide registered Scouting units the opportunity for a major money-earning project through the sale of Makahiki tickets.

Provide high quality family entertainment that encourages family involvement and attendance.
Makahiki Participation Guidebook