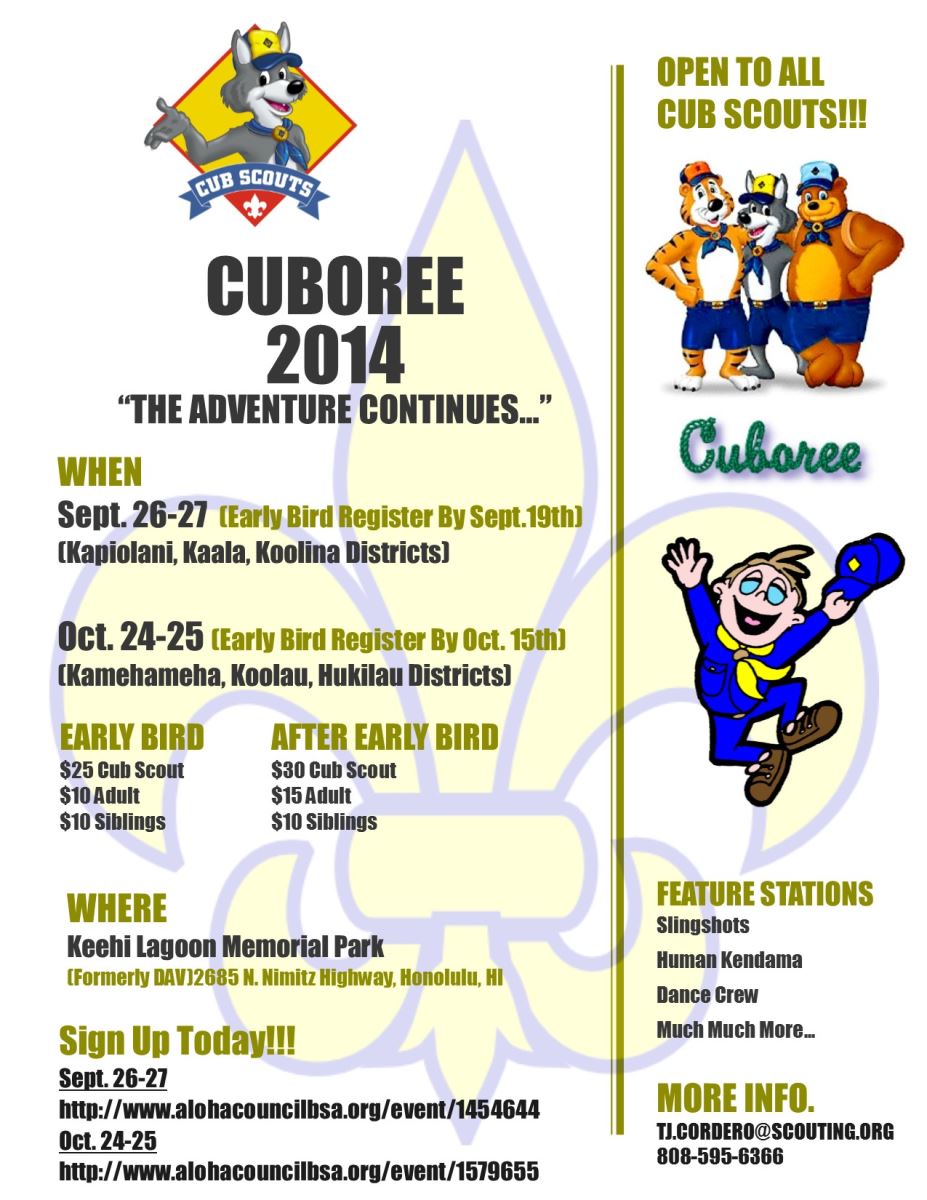 What: An overnight camping experience for Cub Scouts and their Families
*If you are unable to attend your District's cuboree, you may choose to attend the alternate date.
Friday Registration time: 4:00pm
Where: Keehi Lagoon Memorial Park located off of the Nimitz Hwy (formerly DAV)
Cost: Early Bird! $25 per youth, $10 per adult. Pay by Sept. 18, 2014:
Pay after Sept. 19, 2014: $30 per youth, $15 per adult
*$10 for additional adult/sibling for food only. Siblings not permitted to participate in the games and activities. **Medical Form is required** Please click here
Here is what the Human Kendama maybe:
Cuboree 2014
The Adventure Continues…
WHY
To provide Cub Scouts an opportunity to experience the fun and adventure of going camping. Cub Scouts will have the opportunity to earn Belt Loops and work on Rank Requirements.
WHAT TO PACK
Camping Gear (tent, tarp for under tent, sleeping bag, sleeping pad, camp chair, extra blankets, pillow, flashlight, lantern, headlamp, canteen or water bottle, sunscreen, insect repellent, rain gear, hat, towel/wash cloth, sweatshirt or jacket, personal items and toiletries, roll of toilet paper, trash bag, snacks). Field Uniform, Activity Uniform or Cub Scout colored attire (blue and gold). Note: The site does NOT allow easy up tent stakes. If you do not own a tent, see if you can borrow one before you buy one. We don't have extra tents available.
PROGRAM FEE
Cost includes Friday night S'mores, Saturday breakfast and lunch, Patch, lanyard, program badge, camping fees. Note: YOU are responsible for bringing your own dinner Friday night. You may bring it to camp ready to eat or eat it before you arrive. You will not be able to cook your own food or have a place to prep personal meals at this event.
ARRIVAL
Camp opens at 4:00pm on Friday. Upon arrival please park your vehicle and unload then proceed directly to the Registration table. Vehicles will NOT BE PERMITTED on the field area at any time. Be prepared to walk everything from your vehicles to your campsite.
Cub Scouts must be accompanied by a minimum of one responsible adult family member who is 18 years of age or older.
MEDICAL
Please provide both A and B Medical Forms upon registration. A medical professional will be on-site.
More information to come.