Summer Camp at Pupukea
---
RESOURCES AND LINKS
Dates to Remember:

May 31st: camp fees are due to Council; confirm number of participants

Camp Work Weekends

Volunteer to help make our camps ready for the summer camping season.

Nestled high in the Ko'olau Mountains, Camp Pupukea is a 65 acre BSA camp. Located 3 miles above Sunset Beach on Pupukea Road and roughly situated an hours drive from downtown Honolulu and beautiful Waikiki. The North Shore of Oahu has more than 7 miles of beaches and during the summer, waves subside creating the perfect spot for swimming, sunbathing, and Boy Scout Camp. Camp Pupukea offers central dining, a pool, shooting sports range and eleven Troop campsites with water, latrines and conveniently located showers. Troops participate in a traditional merit badge program with several special programs offered only in Aloha Council.

Pupukea offers 40 Merit Badges, 6 camping week sessions, 3 meals a day served cafeteria style in the Weinberg Lodge, dedicated and trained staff, Hou Kiu program for new first-year scouts, Hawaiiana Award program only offered in Hawaii, Beach Program of canoeing, kayaking and snorkeling, Mile Swim, First Aid and CPR training, BSA Lifeguard and much more.

All boy scouts and adult leaders must present a copy of their Health and Medical form (Parts A, B, & C) at check-in.

Click on the link

to download a copy.

ALL Adult Leaders must also provide a current copy of their Youth Protection at check-in

.

Summer Camp Session Dates for the 2017 Season:

WEEK 1:

JUNE 18 - JUNE 24

WEEK 2:

JUNE 25 - JULY 1

WEEK 3:

JULY 2- JULY 8

WEEK 4:

JULY 9 - JULY 15

WEEK 5:

JULY 16 - JULY 22

WEEK 6:

JULY 23 - JULY 29

WEEK 7:

JULY 30 - AUGUST 5

VENTURING WEEK:

JULY 2 - JULY 8

THERE WILL BE NO EARLY ARRIVAL AT CAMP

Sunday Check-in: begins in the afternoon at 1:00 PM. Units not completing Advance Check-in must complete the process before heading to their campsite. Please do NOT arrive at camp before 1:00PM. The camp staff has a lot to do in preparation for your arrival and cannot accommodate early arrivals.

Monday Check-in: Do not arrive before 7:00AM. No one will be available to assist you before that time, so it could cause your Scouts to have to wait. Once you arrive, we will get you into your campsite very quickly, so there is no need to show up really early.

Payment Schedule:

FEE SUBJECT TO CHANGE

Due Upon Reservation!!: $100 Reservation Fee submitted with reservation form non-refundable

March 15: 50% of total fee due

May 31: 100% of total fee due

Scouts: $235

Week 1,2,3,4,5,6 - option to participate in unit campsite cooking: Scout cost $160

*Five or more scouts constitute a unit and must meet minimum adult leadership standards

Adult Leaders: First Two adults are free (local units)

Additional Leaders: $100 (local units)

*ADULTS: All Unit Must Meet Minimum Leadership Requirements and Youth Protection Training Standards

Mainland units: $475 per Scout & Adult
Mainland Provisional: $335

CAMP DISCOUNTS

Special: local Troops and Crews attending Week 1, 2, 3, 4, 5, 6 receive a discount when participating in unit campsite cooking.

*opt out of meals provided by the Dining Hall, troops will bring their own food and have a reduced camp fee.

WHAT'S NEW

Hawaiiana Award Program

The program was designed to educated interested Scouts on the Hawaiian Heritage. This program will be packed with fun and educational activities and includes participation in games, a written essay, music, dance traditional hula and a luau during camp. You will learn how to make flower lei, and learn ancient Hawaiian cooking methods by making lau lau in an imu (Hawaiian oven). Included are field trips to Sharks Cove, Pu'u o Mahuka Heiau State Historic Site and more.

Hou Ki'u Program - Trail to First Class

The Hou Ki'u program is a very important program aimed at giving new Scouts a good foundation upon which to build their Scouting career. It supplements your Troop's skills development training and gives young Scouts an introduction to Scouting's exciting outdoor program. The Hou Ki'u program concentrates on the Patrol Method, Tenderfoot to 1st Class requirements, and FUN! A new Scout's first summer camp experience is a great indicator of how long he will stay in Scouting. If he has a great experience, he is much more likely to stay in Scouting and in your troop for a long time to come!

Wilderness First Aid & CPR

Knowledge of CPR is also a part of earning First Aid, Emergency Preparedness, and Lifesaving merit badges as well as BSA Lifeguard. We will be offering this important skill at Pupukea for those participating in the programs listed above, those wishing to learn about CPR, and any adult leaders in camp.

Shooting Sports

The Shooting Sports program includes archery, rifle, and shotgun. On each range, a Scout can expect to learn safety and responsibility. On all shooting sports ranges, adults and Scouts have opportunities for advancement, recreation, and competitive shooting. Each merit badge offers Scouts an introduction to shooting sports.

Beach Program

Kayaking BSA, Snorkeling BSA, Canoeing, (grouped class, must be taken together) Scuba BSA, and Scuba merit badges are all offered throughout the week at camp. All of these classes are off site, at the beach front.

C. O. P. E.

Stands for Challenging Outdoor Personal Experience for older scouts age 14+. Participants climb, rappel, swing, balance, jump and think of solutions to various scenarios. Most of all COPE means FUN!!!

Recreational Activities

In the evenings, take part in some of the many activities and competitions sponsored by the camp and OA. Start the week off with a bang! on Monday night with camp wide games and sports competitions. Brush up on your knot skills and join us for an exciting competition for all youth and adults in the Knot Off extravaganza. Show off your cooking skills in the Cobbler Cook-off!

Parent's Luau Campfire Program

Parents and family are invited to join us on Friday evening for the closing campfire program. It's a great way to conclude a week of fun.

Summer Camp Staff…A Job With Character!

The Aloha Council, BSA is very pleased to be able to offer employment opportunities at Camp Pupukea. Camp Pupukea is a full-program camp with opportunities in aquatics, shootings sports, Scout skills, nature and crafts.

40 Merit Badges Offered

Archery, Art, Astronomy, Camping, Canoeing, Communications, Cooking, Cycling, Emergency Prep, Env Sci, First Aid, Fish and Wildlife, Forestry, Geocaching, Horsemanship , Indian Lore, Kayaking, Leatherwork, Lifesaving , Model Design & Building, Moviemaking, Nature, Oceanography, Orienteering, Photography, Pioneering , Reptile & Amphib Study, Rifle Shooting, Scuba Diving, Shotgun, Soil & Water Cons, Space Exploration, Swimming , Weather, Wilderness Survival , Wood Carving, We also offer: Hawaiiana, STEM/NOVA, Black Powder Basic, Instructional Swim, BSA Lifeguard (for Scouts & adults age 15+), 1st Aid & CPR training, Scuba BSA, Snorkeling, Wilderness 1st Aid, & adult trainings.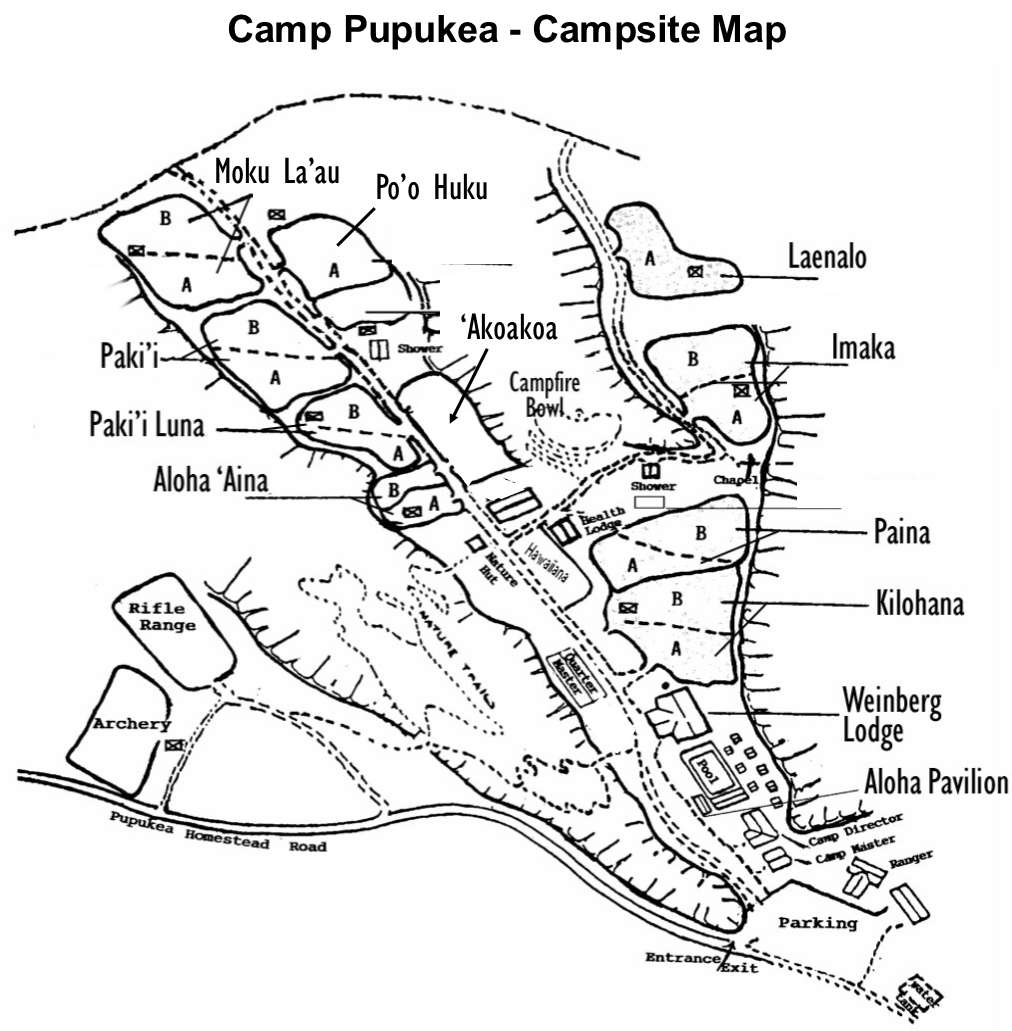 Hours of Operation
Monday-Friday
8:30 AM-5:00 PM
Saturday
10:00 AM- 3:00 PM