CUB SCOUT DAY CAMP 2016
---
"CSI: CUB SCOUT INVESTIGATORS"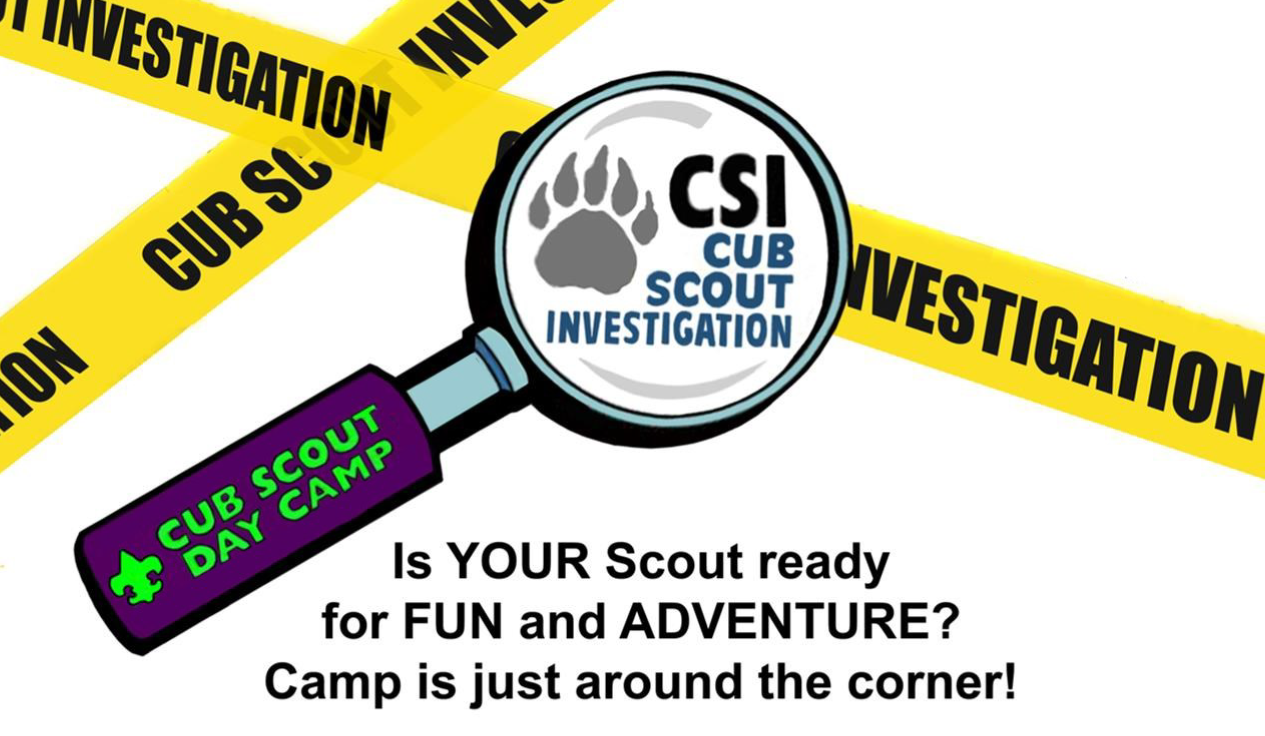 Join the fun at any one of the districts Cub Scout Day Camps. Click on the district of your choice to register!
District
Date
Location
Times

Hukilau

May 27 - 28

Camp Pupukea

5/27 Friday 3:00pm-7:00pm




5/28 Saturday 7:00am-3:00pm

Pukahi

June 2 - 4

6/2-3: Kilauea Scout Camp

6/4: NAS Pool

6/2 Thursday eve @ 4-7pm;
6/3 Friday 9:30am-3:30pm, check-in 9am;
6/4 Saturday 9am-3:30pm, check-in @8:30am

Kamehameha

June 3 - 4

Kamehameha Middle School

7:30 AM - 4:00 PM

Kaua'i

September 24

Waita Reservoir - Koloa

8:30 AM - 3:00 PM

Koolau

June 3 - 4

Camp Kokokahi YWCA

West Hawai'i

June 3 - 4

Konawaena High School

Kapiolani

June 10 - 11

Ke'ehi Lagoon Memorial Park
(formerly DAV)

6/10 Friday 9:00 am - 3:45 pm, check-in 8am;

Ko Olina/Ka'ala

June 17 - 18

Kalaeloa LDS Chapel

8:00 AM - 4:30 PM
What is Day Camp
* An organized day program for all Cub Scouts and Webelos. Siblings not permitted to participate.
* Held at an approved site in accordance with National Standards for Local Council Accreditation of Cub Scout Day Camps.
* An opportunity to participate in special activities that includes BB Guns & Archery, games, crafts, and more.
Cost: $35 Early Bird rate by May 28. After May 28 the cost to attend day camp will be $55. Please note that hat availability are not guaranteed if registering past May 14th. The fee includes a Camp hat, Patch, craft and program supplies. Packs are encouraged to submit registration together as a Unit.
National BSA Guidelines: Each Pack must be accompanied by at least one registered adult over age 21 during the entire event. A 1:5 ratio of Adult Leaders to Scouts is mandatory. All adults attending MUST provide a current copy of their Youth Protection Training certificate.
BSA Medical Form
(Bring medical form A&b for each participant with you to Day Camp)
Photo Release Form
(Bring signed photo release form for each participant with you to Day Camp)
Day Camp Flyer
(to promote within your pack)
Purpose of Day Camp
Providing a continuation of the Cub Scout program through the summer

Provides Packs an opportunity to earn the National Summertime Pack Award

Helping the boys maintain their needs and interests by offering a meaningful Scouting program

Strengthens den and pack organizations for a better year-round program

Aids in the progression from Cub Scouting to Boy Scouting.

HAVING FUN!
National Standards for Cub Scout Day Camps
The Boy Scouts of America take great pride in assuring that all of its day camps meet the requirements for accreditation. The National Standards are established to:
Ensure the health, safety, and well-being of every camper, leader, visitor, and staff member while on camp property.

Ensure that the council takes pride in the high quality of its Day Camps, including the program, staff, facilities, and equipment.