11-year Old Scout Camp at Camp Pupukea
---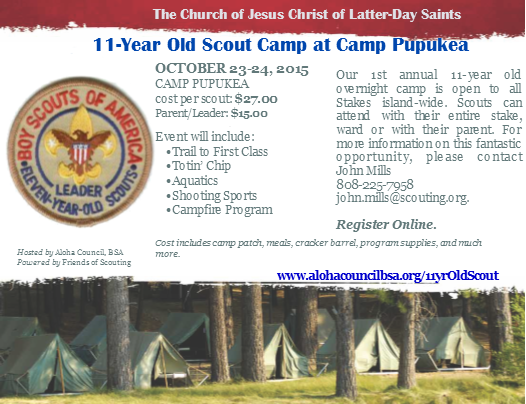 Click here to download a copy of the flyer
click here for the Leader's guidbook
Q&A:
Q: What does the event include, and are there going to be any additional costs?
A: The event will include all meals from Friday dinner and cracker barrel, through Saturday dinner. All activities, including aquatics, shooting sports, cooking, etc. are covered by the registration fee. There will be no additional costs. Event also includes a participation patch, and a souvenir water bottle.
Q: What is the cost per adult?
A: Adult registration fee is $15.00 per person. Adults will receive the same patch and water bottle as the youth participants. We encourage parents and relatives of the Scouts to participate with their boys.
Q: What is the primary objective of the 11-Year old Camp?
A: To assist LDS stakes and wards to have a fulfilling program for their 11-year old Scouts. This camp will be focused on Scouts earning their Tenderfoot, Second Class and First Class ranks. We will offer the majority of the requirements, for those ranks, to the Scouts attending this camp. It will be done in an environment friendly to our youngest Boy Scouts, and give them opportunities to experience a real Boy Scout Camp and help them prepare to attend Summer Camp as a 12 year old, next year.
Q: Will all meals be provided in the Dining Hall (Lodge)?
A: Part of the requirements for trail to First Class includes planning and preparing three meals (two hot meals and one cold meal). The Scouts will fulfill this requirement by doing some of their cooking in their campsite, by patrol. They will prepare the Friday night cracker barrel (hot meal), Saturday breakfast (hot meal) and Saturday lunch (cold meal). All the food and equipment needed, for the meals, will be provided. The Scouts will not need to bring any cooking equipment. Food will be issued in a commissary fashion to mimic the Scouts shopping for their own supplies. The meals provided in the Lodge will be Friday and Saturday dinners.
Q: What is the schedule for the event?
A: The event begins with check-in on Friday. Check-in will start at 5:00pm and run through 6:00pm. Dinner on Friday begins at 6:30pm. The event concludes with dinner on Saturday, at 5:30pm. Scouts and Leaders can check out from camp and head home any time after 6:00pm.
Q: Are siblings or other Scouts allowed to attend?
A: This event is strictly for Scouts, so siblings of Scouts are not permitted to attend, but parents of Scouts are highly encouraged to join their sons. As for older Scouts, this event is intended for 11-year old Scouts. At the same time, since this is our 1st annual camp, if a newly ordained Deacon did not get the chance to earn his Tenderfoot rank while an 11 year old, we would hate to see him miss out. However, Scouts older than 12 years are not eligible to participate in this camping experience. Ultimately, the ward would need to decide whether to allow their brand-new Deacons to attend this event.
Q: What do we need to bring?
A: A packing list will be provided in the camp guidebook, once published. Scouts and leaders will need to bring their personal gear, including clothes for swimming and changing, a sleeping bag, flashlight and other personal items. There is a Trading Post at camp with a lot of fun and exciting camp equipment and gadgets, as well as snacks and drinks, so Scouts are welcome to bring spending money, as well.
Q: What do I need to do to register?
A: Registration can be done online at http://www.AlohaCouncilBSA.org/11yrOldScout You can register as an individual, a parent/son, a ward or as a stake. Payments will be accepted online, as well, or you can register online and bring your ward or stake check into the Aloha Council Scout Service Center. It is important to note: all participants (adult and youth) must have a completed BSA Annual Health and Medical Record (parts A and B only) upon arrival at camp.
Q: Is this exclusively an LDS event?
A: Yes. The LDS Church is the only Scouting organization that has a specific 11-year old Scout program. Since the LDS Scouting program is unique, we have developed a unique event to meet the individual needs of our 11 year old Scouts.
Q: What does it mean, "Powered by Friends of Scouting," on the flyer?
A: Members of the LDS Church generously contribute to the Aloha Council and the BSA, every year. Those funds are used to supplement the operations of our Camps and events. The full resources of Camp Pupukea will be available for our Scouts to enjoy during this event and sometimes our FOS donors don't get to see the fruits of their gifts.
I know the event will be a great one for our boys and hopefully this will assist our leaders and parents as they work with their boys on their trail to first class.
IT'S A GREAT TIME TO BE 11 YEARS OLD!!!